Our Blog
Posts for: October, 2015
By Pari J. Moazed, DDS
October 21, 2015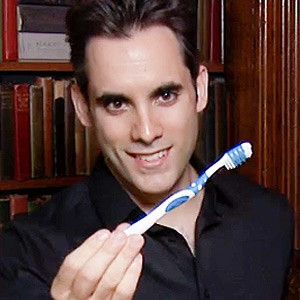 Magician Michel Grandinetti can levitate a 500-pound motorcycle, melt into a 7-foot-tall wall of solid steel, and make borrowed rings vanish and reappear baked inside bread. Yet the master illusionist admits to being in awe of the magic that dentists perform when it comes to transforming smiles. In fact, he told an interviewer that it's "way more important magic than walking through a steel wall because you're affecting people's health… people's confidence, and you're really allowing people to… feel good about themselves."
Michael speaks from experience. As a teenager, his own smile was enhanced through orthodontic treatment. Considering the career path he chose for himself — performing for multitudes both live and on TV — he calls wearing an orthodontic device (braces) to align his crooked teeth "life-changing." He relies on his welcoming, slightly mischievous smile to welcome audiences and make the initial human connection.
A beautiful smile is definitely an asset regardless of whether you're performing for thousands, passing another individual on a sidewalk or even, research suggests, interviewing for a job. Like Michael, however, some of us need a little help creating ours. If something about your teeth or gums is making you self-conscious and preventing you from smiling as broadly as you could be, we have plenty of solutions up our sleeve. Some of the most popular include:
Tooth Whitening. Professional whitening in the dental office achieves faster results than doing it yourself at home, but either approach can noticeably brighten your smile.
Bonding. A tooth-colored composite resin can be bonded to a tooth to replace missing tooth structure, such a chip.
Veneers. This is a hard, thin shell of tooth-colored material bonded to the front surface of a tooth to change its color, shape, size and/or length; mask dental imperfections like stains, cracks, or chips, and compensating for excessive gum tissue.
Crowns. Sometimes too much of a tooth is lost due to decay or trauma to support a veneer. Instead, capping it with a natural-looking porcelain crown can achieve the same types of improvements. A crown covers the entire tooth replacing more of its natural structure than a veneer does.
If you would like more information about ways in which you can transform your smile, please contact us or schedule an appointment for a consultation. You can also learn more about the techniques mentioned above by reading the Dear Doctor magazine articles "Teeth Whitening," "Repairing Chipped Teeth," and "Porcelain Crowns & Veneers."
By Pari J. Moazed, DDS
October 06, 2015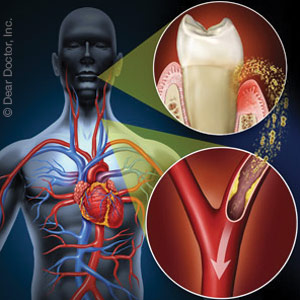 If you have periodontal (gum) disease, you probably already know you're in danger of eventual tooth and bone loss if the infection isn't brought under control. But if you also have diabetes, the effects from gum disease could extend well beyond your mouth.
Gum disease is a bacterial infection caused by plaque, a film of food remnant that builds up on tooth surfaces mainly due to poor oral hygiene. As the infection grows, your body's immune system responds by flooding your gum tissues with antibodies to fight it, resulting in inflammation. As the inflammation persists, though, it damages the gum and underlying bone tissue, which in turn leads to gum and bone loss from the teeth.
Diabetes also causes an inflammatory response within the body. The disease develops either as a result of the body's decreased ability to produce insulin to balance the glucose (sugar) levels in the bloodstream (Type 1) or the body develops a resistance to insulin's effects (Type 2). As a result diabetics experience abnormally high blood glucose levels, a condition called hyperglycemia. This triggers chronic inflammation that can lead to inhibited wound healing, increased risk of heart, kidney or eye disease, coma or death.
Gum disease can worsen diabetic inflammation, and vice versa. The effects of the oral infection add to the body's already overloaded response to diabetes. In turn, the immune system is already compromised due to diabetes, which can then increase the severity of the gum disease.
Research and experience, though, have found that pursuing treatment and disease management for either condition has a positive effect on managing the other. Treating gum disease through plaque removal, antibiotic therapy, surgery (if needed) and renewed oral hygiene will diminish the oral infection and reduce the body's immune response. Caring for diabetes through medication, diet, exercise and lifestyle changes like quitting smoking will in turn contribute to a quicker healing process for infected gum tissues.
Treating gum disease when you have diabetes calls for a coordinated approach on both fronts. By caring for both conditions you'll have a more positive effect on your overall health.
If you would like more information on the relationship between diabetes and gum disease, please contact us to schedule an appointment for a consultation.