Our Blog
Posts for: February, 2015
By Pari J. Moazed, DDS
February 23, 2015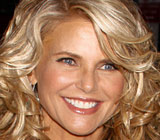 Model Christie Brinkley's smile has been a symbol of America's optimism since the seventies. Particularly well known for being the cover model for three consecutive Sports Illustrated Swimsuit editions, Brinkley still has a fresh-faced American girl-next-door beauty that starts with her cheerful smile, which transmits the message that all is well.
Brinkley's modeling career began when she was "discovered" in Paris in the seventies, at the age of 18. As she explained in an interview with Dear Doctor magazine, it was like a fairy tale. She had gone to study art in Paris, where a fashion designer spotted her walking down the street. "He told me later he immediately thought, 'That's the girl!'" she said.
Brinkley attributes her famous smile to a combination of good genetics (she inherited her mother's "beautiful straight teeth"), combined with the intelligence to practice good oral hygiene and have regular dental appointments. She never needed to have work done to prepare her for the modeling life; but as a teenager, she said, she wished she could wear braces because she thought the "coolest kids had them."
Although dental restorations were not needed to enhance her beautiful natural smile, she did have two dental implants after she fractured two rear molars in a bad helicopter crash while back-country skiing, and she says she is thankful for dental implant technology because it looks and feels so natural.
Brinkley said that her smile led directly to her assignment as spokesperson for a brand of oral rinse and mouthwash products. She is also concerned about the environment. Her company Christie, Inc. is designing environmentally friendly products.
Her advice to everyone is to smile more. "I think a smile makes EVERYONE beautiful! It's the greatest gift we give each other... It's an expression of friendship, love and peace!"
If you have questions about your smile, contact us today to schedule an appointment. Or you can learn more by reading the Dear Doctor magazine article "Christie Brinkley's Supermodel Smile."
By Pari J. Moazed, DDS
February 13, 2015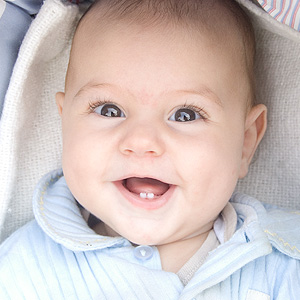 For a lifetime of healthy teeth and gums, it takes a lifetime of personal and professional care. Starting your child's daily hygiene with the first tooth eruption is a must; but you should also consider beginning regular dental visits in their early years, around or before their first birthday.
There's evidence that early dental visits hold a number of benefits that could lead to reduced oral care costs over their lifetime.
Familiarity with professional dental care. Children need to feel comfortable and safe in their surroundings, especially new places. Beginning dental visits early improves the chances your child will view the dentist's office as a regular part of their life. It's especially helpful if the dental professional has training and experience with young children to put them at ease.
Early monitoring for dental disease or other problems. A young child's teeth are highly susceptible to tooth decay. Dental visits that begin early in a child's life increase our chances of detecting any developing dental problems early. In addition to treating decayed teeth, your child may also need preventative actions like sealants or additional fluoride applications to protect teeth if they are at a higher risk for disease. As the child develops, we may also be able to catch early bite problems: with interventional treatment, it may be possible to reduce future orthodontic costs.
Parental help and support. As we discuss your child's dental care with you, we'll be able to provide essential information and training for how to care for their teeth and gums at home. We'll also be able to ease any common concerns you may have, such as thumb sucking or other oral habits, as well as give you sound advice and techniques for dealing with these problems.
As with other areas of childhood development, starting off on the right foot with oral care can make all the difference to their future dental health. The sooner you begin regular dental visits with your toddler, the better their chances for a lifetime of healthy teeth and gums.
If you would like more information on dental care for children, please contact us or schedule an appointment for a consultation. You can also learn more about this topic by reading the Dear Doctor magazine article "Taking the Stress out of Dentistry for Kids."